TORUL
Вебсайт: www.torul-recordings.net
Facebook: www.facebook.com/torul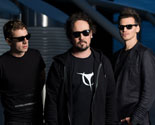 TORUL is an electro-pop band from Slovenia, headed by Torulsson, who is a songwriter and the producer
of the band. The other members are guitarist and live synth player Borut and singer Jan.
Torulsson has had a lot of club music releases in the past, but parallelly also explored vocal music, inspired not just by electronic music, but also dark rock, indie and other genres.
Constantly exploring and merging influences and own development in production, TORUL have quite a unique sound with a variety of different approaches. Instead of strictly following one style of music, TORUL are interested in production with a broader approach to music.
First TORUL album 'Dark Matters' saw light in 2010 and in spite of an almost non-existing promotion brought two quite well accepted singles, 'It Was Supposed To Be Fun' and 'Saddest Song'.
Right after that TORUL got signed by German independent label 'Infacted Recordings' and released the much more noticed album 'In Whole', from which two singles made it among top 3 on various alternative charts, such as DAC,GEWC, DAT20, EAC and others. Their unique stop-motion video 'Try', which they co-created, was aired on regional MTV and also ranked fourth on their video chart. Another video for 'In Whole', although very different to 'Try', was also very well accepted and awareness for TORUL was finally established between gothic and synth-pop community as well as other music fans.
TORUL's album 'In Whole' was highly recommended on various sites and online magazines, and also earned the 'Newcomer of the year' title on the high profile portal depechemode.de.
TORUL, highly motivated, started the production of the forthcoming album 'Tonight We Dream Fiercely' shortly after that, first releasing a single and video for 'Glow' last year, which hit number one spot on DAC chart and several good rankings on others as well.
The new album will be released on April 5th in Europe and on April 9th in USA.